Ares launches Intelligent Financial Product Graphical Tool in Hong-Kong
Since Taiwanese banks have been setting up Treasury Marketing Unit in overseas branches actively to sell financial derivatives, overseas branches information system requires more effective tools. Ares International Corp. recently headed to Hong-Kong and held a dinner party to share the counter solution which can reveal market risks and conform to related regulations.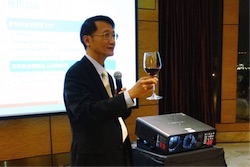 The event kicked off by Frank Lin, president of Ares. President Lin indicated that due to the coming monetary easing era, financial derivatives have become the main source of profits. Hence, Ares shared the brand-new tool to the attendees through this event.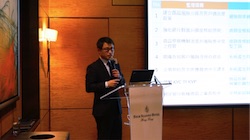 Consultant Zheng Hui Chen explained the innovative functions of the Intelligent Financial Product Graphical Tool, e.g. forfaiting, factoring, omnibus accounts, syndication loan arranger of core business and TRF (Target Redemption Forward), NDF (Non-Delivery Forward), IRS/CCS (Interest Rate Swap/Cross Currency Swap), DCD (Dual Currency Deposit), option, market risk including pricing and VaR (Value at Risk)…etc. Consultant Chen pointed that Ares Portfolio Management System can reach six goals: 1. Trading operations automation 2. Integrate with eAresBank, the core banking system of Ares, completely 3. Multi-product, multi-currency and multi-country supported 4. Provide portfolio management, analysis and generate transaction document automatically 5. Integrate with other systems 6. Flexible option of modules.
onsultant Chen also demonstrated the operation and application of the tool to the attendee: presenting the profit-and-loss via graphics, calculate the fair price, value at risk, sensitivity analysis, future cash flow with one click and generate the transaction document. The tool turns complicated process into simple steps and shortens over 50% of design and hit-shelf time!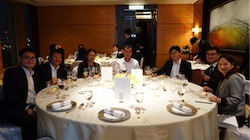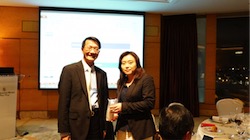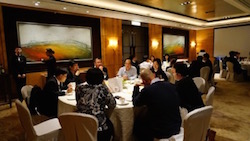 The event was held in the evening. Knowing the exhaustion of bankers, Ares arranged for the attendees to relax and enjoy the evening with dinner. Attendees asked questions according to the explanation of Consultant Chen and seized the time to interact with others. Therefore, the event ended in a heated atmosphere!
Introduction of ARES Treasury System
ARES Treasury System is the first financial operation system that runs through front, middle and back offices in Taiwan. The system has three main characteristics: fast accounting treatment, automated STP (Straight Through Processing), and is suitable for diversified products. Covering interest rates of financial transactions, bonds and such main basic financial derivatives products of both at home and abroad business units. Not only can the system integrate with current systems, but also can connect with future business systems easily. Furthermore, ARES Treasury system is connected with SWIFT (Society for Worldwide Interbank Financial Telecommunication).
ARES Treasury System:
http://www.ares.com.tw/en/products/treasury/
Ares Introduction
Ares is the first Taiwan-based software company to be listed on the Taiwan Stock Exchange (TSE) and has been dedicated to IT services for 35 years. Ares is a professional manufacturing management information system provider of greater China, providing software products and professional services for financial organizations, governmental institutions and enterprises, including outsourcing services. Ares is the first government-acknowledged IFRS (International Financial Reporting Standards) ERP solution provider and first Oracle partner in Taiwan. With the largest market share in the MES (Manufacturing Execution System) industry of Taiwan LED industry, Ares is also the top player of the Taiwan foreign exchange and core banking solution company and SWIFT partner.
Ares introduction:
http://www.ares.com.tw/en/home