Ares helps ARCOA enhances capacity of operational analysis with BI tool Analyzer
ARCOA seeks "Smart Consumption, Local Service" and devotes to provide versatile digital integrated goods and service. To come up with market, the decision making will be based on improving the efficiency of operational statement generation.
It's been 32 years since the first store of ARCOA was founded by 1981. For years, ARCOA witnessed the rise of mobile communication. However, it experienced the tough competition in the market. It has been the leading brand in channel and communication because ARCOA always stays close to consumers and listens to their demand, as well as providing trustworthy service quality with the network of communication.
Today, ARCOA wants to be "ARCOA that Serves" from "ARCOA that Sells". With this transformation goal, it is necessary for quality and speed in operational decision to stay excellent any time; at the moment, the advisor team will take big responsibility for searching winning clue based on past operation to provide marketing suggestion to each department. However, the team will always be responsible for generation of operational and management statements and take tough loading. The team will not only worry about the combination of data coming from each department but come up with the demand of schedule. When this situation takes place, productivity will be affected. This is not good for ARCOA transformation with high value-added. Because of this reason, the management team asked department of information technology to assess the possibility of applying an automation tool.
Hui-Ping Sung, senior manager of department of information technology, ARCOA, stated, "Operational statement and customer data integration need to activate with two phases for establishment of business intelligence (BI). At the first phase in 2012, ARCOA developed a basic data model and then simultaneously executed analysis for members and automatically run operational statement based on infrastructure of BI such as data warehousing, operational data store, data market, and ETL (Extract, Transform, and Load). After assessment, ARCOA has decided to work with Ares International Corp. to adopt Analyzer of Strategy Companion Corporation for operational statement automation. We hope this can release tough loading for manpower and improve efficiency and accuracy for combination of data. At the same time, it could speed up statement delivery and provide it to decision maker in time."
80% operation time decreased
There are four reasons for adopting Analyzer" Sung said, "first of all, it is the balance between Total Cost of Ownership and benefit. Next, this tool is friendly and more acceptable for user. With the goal of self-service statement, this extremely complies with the benefit coming from Analyzer. Third, warehousing ODS (Operational Data Store) or ETL all based on the architecture of Microsoft SQL Server Analysis Service just like what Analyzer adopts for the architecture. There's no doubt to lower threshold for IT personnel to learn programming language."
Finally, support from Ares and Strategy Companion Corporation is extremely perfect and does not concerned ARCOA. Sung explained, "Look back to traditional method, statements is established on different information system such as POS (Point of Sales) and telecommunication by each department. After that, advisor team will obtain data based on search method and create operational statement with manpower after data collection. This will spend much time to do so."
As Analyzer go live, we can pre-design statement or analysis model based on Cube and then the system will automatically generate statements. After that, information will display on Web-based Portal. So, related department will no longer work on prepared process. Instead, directly meet the goal for providing decision makers operational information will be more possible to fit in with expected result.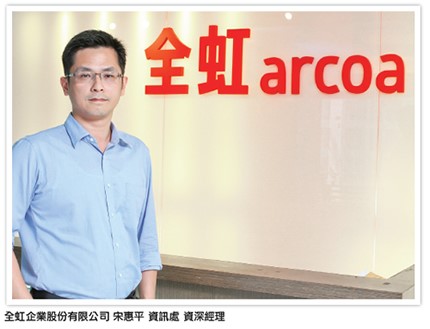 [/img/events/2016/20160929-Analyzer-ARCOA.jpg]
It is undeniable that the original intention of applying statement tool is to shorten the time. However, Sung thinks that the benefit need more time to prove. He explained, "If operational statement has to generate value, speed and accuracy are necessary elements. Thus, we will see if it is necessary to modify strategy, increase sources, change statement format based on definition of past statistics and calculation demand with full examination. ARCOA look forward to obtaining the important foundation derived from this approach."
To summarize the project at first phase, approximately 15% of statements have transformed from manpower to automation. The total percentage at 80% on operation has been shortened. This is a distinguished result. Until the end of 2013 with prediction, the coverage will have risen up from 15% to 45%.
Move forward to Self-service Statement
In 2013, project of customer data integration heads to another phase. Sung said, "Our goal at this phase will be more applicable on expanding statements and analysis model to be perfect. For example, not only do we need to handle stock condition, revenue, and products sales from operational statement with basic model, but expand it into entire operational management such as stock analysis, finance analysis, and so on."
Another key point, is self-service report and analysis service, which means Analyzer should be promoted to end user and delivered the control authorization that works on presentation layer to real users. Once it succeeds, it could satisfy the need with independently operating such as real-time analysis on status such as product sales and telecom number activation and there's no need to rely on the IT department.
To fulfill the self-service vision, ARCOA plans to deliver a series of trainings to personnel for easily using Analyzer tool since July, so that Analyzer will be an easy middleware tool for everyone just like using water and electricity Sung emphasized, "The only way to be the most successful application with BI is that end users are delighted to learn and adopt this tool."
It is worthy to notice that project of membership behavior analysis at the first phase will combine different customer data for Laphone and HappyGo with another overseas-brand front-end system. It also analyzes membership architecture layer and consumption behavior for better product promotion and service quality. The deeper we are using information tool, the more need it is for efficient integration of front-end tool for lowering learning curves. Thus, it should step-by-step unify the tool based on application of front-end and practical demand.
In summary, when getting rid of manpower operation, ARCOA staffs can pay more attention to operational analysis. More advanced analytic measurement like sales analysis, sales per unit area, and so on will be applied. With BI applied, it drives staffs innovation and enhances analysis capacity of operational strategy for higher value-added.
About ARCOA
ARCOA was founded in 1981. The initial name was ARCOA Communication Co., Ltd. Since it is founded, it not only witnessed the historical progress of communication in Taiwan but also provided excellent digital product and service. By 2000, ARCOA established the maintenance center and then logistic center to expand service for their numerous customers.
During being the leading of communication, the most important event for ARCOA is to promote gift card by 2004. It is a pioneer of retail chain with reward point for membership in communication. By 2005, Far Eastone Telecommunication is the major shareholders and vertically integrated channel and system enterprises in Taiwan. By 2006, ARCOA entered the market of MVNO (Mobile Virtual Network Operator) and promoted telecom charges plan.
Until today, ARCOA seek "Smart Consumption, Local Service" to provide versatile digital integrated goods and service with convenience of communication network and be a trustworthy digital partner.
About Analyzer
Analyzer is the best analytic tool for the enterprise BI platform and provides a complete BI solution. Analyzer has been adopted by numerous large-scale global enterprises. Analyzer can synchronously present the complete analysis result in multi-table, multi-graph, multi-worksheet and multi-bookmark styles, and enable users to fully interact with information and dig its values. Analyzer satisfies 3 key functions: reporting, analytics and scorecard & dashboard. Different from the traditional reporting tools which satisfy query demand, Analyzer is good at OLAP (on-line analytical processing) and enables users to dig into the data and analyze it without restriction. Not only can this rescue IT staff from heavy loading of reports, but also make obtaining thorough information and statistics in seconds possible for commercial users!
Introduction to Ares
First Taiwan-based software company to be listed on the Taiwan Stock Exchange (TSE) and has been dedicated to IT services for thirty five years
Professional information management system provider of greater China, specializing in research and development technology and system integration, and provides informatization services from single products to total solutions for main service clients throughout financial, government, industrial and commercial enterprises
Certified regional partner of SWIFT (Society for Worldwide Interbank Financial Telecommunication) in Taiwan
First government-acknowledged IFRS (International Financial Reporting Standards) ERP solution provider, first Oracle partner in Taiwan and Microsoft Gold Certified Partner
Largest provider of Manufacturing Execution System in Taiwan LED industry
Top player of the Taiwan foreign exchange and core banking solution provider, which even has been mentioned in Gartner reports
More information about Ares:
http://www.ares.com.tw/en/home
ARES introduction: http://bit.ly/1BNIMVD
LinkedIn: http://linkd.in/1Br5OCM