Ares helps Taiwan Cooperative Bank establish sub-branch system in Cambodia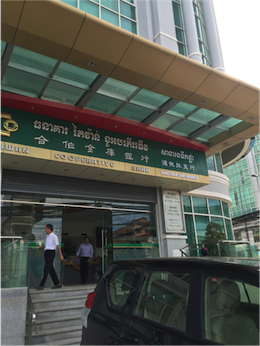 Hong-chen Lin, president of Taiwan Cooperative Bank (TCB), led several executives to hold the housewarming of Phnom Penh Branch of Cambodia and hosted an official business launch of Teuk Thla and Posenchey sub-branches on January 5th, 2015. TCB has chosen Ares International Corp. again and employed its overseas branch core banking system "eAresBank".
Frank Lin, president of Ares, indicates that TCB established Phnom Penh Branch in Cambodia on March 28th, 2014, providing deposit, loans, foreign exchange and trade financing services. Ares helped TCB Phnom Penh Branch employ eAresBank, and introduced eAresBank to both new-established sub-branches in merely 4 months, as most of the overseas branches of TCB adopt eAresBank and Ares has abundant experiences in establishing banking systems for overseas branches.
TCB is a publicly listed bank headquartered in Taipei, Taiwan and is one of the most prominent banks in Taiwan, having the most branches among all banks in Taiwan.
Introduction of eAresBank
eAresBank overseas branch core banking system integrates the needs of international financing business and the functions of commercial banks, uses on-line real-time operation model and integrates retail & wholesale banking. As well, the solution can be linked to the global connection system of SWIFT. eAresBank has complete functions while its stable and strong system integration simplifies the operation process, enabling the bank to rapidly gain strategic information and bring stronger international competitive edge. The clients of eAresBank includes most of the noted banks in Taiwan, such as Land Bank of Taiwan, Bank of Taiwan, Taiwan Business Bank, Industrial Bank of Taiwan, Cathay United Bank, Far Eastern International Bank, Shin Kong Bank, China Development Industrial Bank and Ta Chong Bank, etc.
More information about eAresBank:
http://www.ares.com.tw/en/products/earesbank/
Introduction to Ares
Ares has provided professional services for over 30 years and is the first Taiwan-based software company to be listed on the Taiwan Stock Exchange (TSE). Ares is a professional manufacturing management information system provider, with the largest share in the MES industry of Taiwan, the first government-acknowledged IFRS ERP solution provider. Ares is also the top player of the Taiwan foreign exchange and core banking solution company and SWIFT partner, while being the first Oracle partner in Taiwan.
More information about Ares:
http://www.ares.com.tw/en/home