Ares eGUI provides comprehensive e-invoice generation
To cope with Taiwanese enterprise electronic invoice implementation time schedule and reduce internal costs, Ares International Corp. provides eGUI (e-Government Uniform Invoice), which leads enterprise to start electronic invoice generation to reach "4 savings": time, manpower, costs, and paper. Electronic invoices not only can protect individual′s electronic consumer rights, but also save social costs and promote the convenience of economic entity.
Ares President Frank Lin stated: electronic invoice will assist enterprise to reduce tax costs, through internet platform automation and transparent process, to save manpower and increase process efficiency as well as accuracy. Ares eGUI is a resource-sharing system that can directly make validation online, saving the time for sending documents back and forth, which improves tax department's review mechanism efficiency.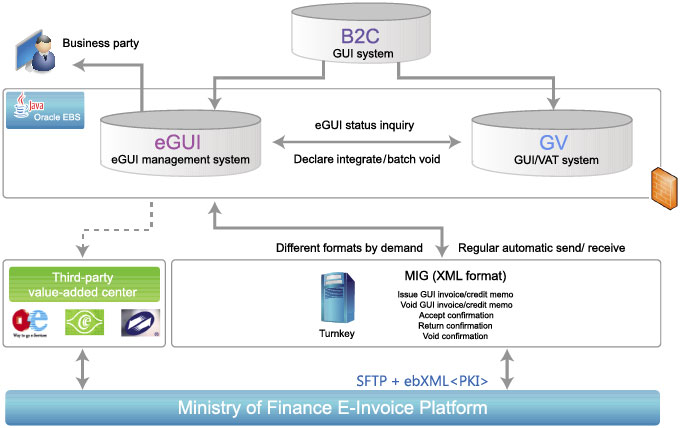 Ares sales manager Frank Lee said: Ares eGUI can effectively make B2B and B2C eGUI integration management easier, while assisting enterprise to achieve energy conservation, practice environmental protection and corporate social responsibility. eGUI combines procedures and internet platform including input, output invoice and other actions, along with automation and transparent intelligent management mechanism, to satisfy enterprise′s diverse needs and concerns on eGUI management. Computerization implementation saves huge amount of manpower and time, information paperless also reduces paper material costs, certainly is an important advantage for enterprise expansion and development.
As e-industry continues to grow, Ministry of Finance in Taiwan actively promotes electronic invoices for environmental protection and intelligent living. Recently, the regulation to activate comprehensive electronic invoice has been approved, thus computer invoice will be completely terminated in 2018.
| | |
| --- | --- |
| Before 2016/6/30 | Complete use of uniform invoice |
| From 2017/1/1 | Terminate approval of enterprise using computer invoice |
| From 2018/1/1 | Computer invoice completely terminated |
For more information about eGUI: http://www.ares.com.tw/en/products/lt/
About Ares
First Taiwan-based software company to be listed on the Taiwan Stock Exchange (TSE) and has been dedicated to IT services for thirty five years
Professional information management system provider of greater China, specializing in research and development technology and system integration, and provides informatization services from single products to total solutions for main service clients throughout financial, government, industrial and commercial enterprises
Certified regional partner of SWIFT (Society for Worldwide Interbank Financial Telecommunication) in Taiwan
First government-acknowledged IFRS (International Financial Reporting Standards) ERP solution provider, first Oracle partner in Taiwan and Microsoft Gold Certified Partner
Largest provider of Manufacturing Execution System in Taiwan LED industry
Top player of the Taiwan foreign exchange and core banking solution provider, which even has been mentioned in Gartner reports
More information about Ares:http://www.ares.com.tw/en/home
ARES introduction:http://bit.ly/1BNIMVD
LinkedIn:http://linkd.in/1Br5OCM
Email: marketing@ares.com.tw
Contact Person: Carrie Yu
Tel: 886-2-2522-1351 ext.381
( ARES is registered trademarks to Ares International Corp. Other names and trademarks belong to headquarters and branches. )