When food meets technology:Feastogether uses Ares ArgoERP to build NT$10 billion catering enterprise
Electronic operations of restaurant industry rely on manufacturing management experience
ERP were mostly used to assist the manufacturing industry in the past. However, recently emerging industries, business from restaurants and food productions to services, all required ERP and electronic operations to provide complicated information for the right people at the right time to enhance operation performance.
In light of this, I-Hang Chen, general manager of Featogether, referred to experienced Ares consultants and selected ArgoERP, a highly flexible system, to build the most suitable ERP system for their group. In the early stage of implementation, the company did not limit much of the system planning, but started at necessary functions, embarked on performances which could be achieved and improved with the system, and discussed with ArgeoERP team to acquire the method to generate correct and important real-time information. In summary, ERP system was the most important tool to link with internal resources for business operations; therefore, the integration of ERP and internal processing would provide the right information for the right members at the right time to effectively elevate overall efficiency of resource usage.
Changing to activity from passivity to build the most customer confidence
Due to recent food security problems and food poisoning because of inappropriate food preservation caused by humid weather in Taiwan, how to guarantee food quality has been a big test for Feastogether, a catering group which has run the business for years.
Many restaurant brands and diverse types of cuisine in Feastogether means the company has to effectively control food sources and raw material quality from everywhere as a gatekeeper for customers. When food security problems happen, Feastogether uses ArgoERP to preventively and immediately remove problematic materials to face the issues. Moreover, the more items the company has, the more thorough system it needs. Thus, by ArgoERP, the company can file and list serial numbers when materials import so that source providers will be found and the batch of suspicious materials can be removed if any sudden emergency occurs. Even though semi-finished food has the issues, the problematic food can also be fast found by returning to work orders and bills of material though ArgoERP.
Yu-Xuan Wang, manager of administration department at Feastogethr, said that with ArgoERP, raw materials and semi-finished food have been more precisely and quickly controlled. When food security issues happen, our production operations can remain workable because only 3 hours are taken to remove problematic materials in advance and the replacements will be ready in 24 hours. Taking the food issue of Kongyen vinegar for example, Feastogether took precautions against the eruption to lower the loss to the least.
Establish food safety department to guard sources to build more trust with customers
To avoid food security issues, besides meeting the standards of SGS testing, Feastogether especially established food safety department to control material safety and actively set up a line of defense for customers. More cautiously, the company even established a food testing laboratory to randomly inspect all materials. Thus, neither the commonly-seen staphylococcus aureus nor ractopamine could be hidden with the help of the lab. Moreover, the members of the department would visit provider factories from time to time and branches to do random inspection, which was to make sure the security and quality of each material and dish meet its standards.
Zhong-Yan Wu, assistant manager of administration department at the company, puts that to effectively control provider quality, food safety and purchasing department would regularly record the service, quality, delivery date of providers and score their performance to be the evaluation standard of choosing excellent partners for next contract year.
Additionally, Feastogether set high standards of food quality for itself. Food safety department would randomly review the central kitchen and restaurants to ensure they have followed its SOP, which suggests that chopping boards in the kitchen be recognized by colors for different usages, spots be sanitized each 30 minutes, food be persevered for reference, and so on. The department then examines and guides the branches which do not meet the regulations. Since the process of food production is complicated, being careful with tiny things is necessary to grab the devils in the details and Feastogether has well done with its insistence and cautiousness.
The goal of Feastogether for ten years: be the best catering enterprise in Taiwan
Feastogether, a traditional Shichuan restaurant in establishment, become a fashionable catering group and had billions in yearly revenues. The company owned eight brands and twenty branches from the north to the south in Taiwan, all being youngers' favorites for dining together. However, not self-contented, Feastogether set goals for the future: to be the best catering enterprise of Taiwan in 2025, to own ten brands and to reach NT$10 billion in revenues.
Referring to the achievement and prospect of Feastogether group, I-Hang Chen appreciated all members' devotion on not only doing things right but doing the best. Moreover, with ArgoERP, the operation efficiency has enhanced though the organization has been getting bigger. To better customers' dining experience and life, Feastogether has insisted that communication and interaction should be back to human nature and expect itself to be the best catering enterprise of Taiwan in ten years.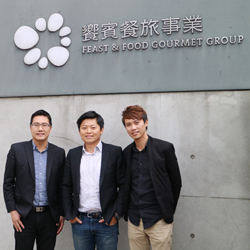 About ArgoERP
Ares is the only listed ERP software company in Taiwan. ArgoERP modules have underlying architecture applied flexibly and built-in standard functions, so it could be adjusted to fit different characteristics of industries, such as traditional, construction, chemistry, production, and service industry, to improve the business process and the efficiency of overall resource utilization in the most economical way. It is applicable to multi-company, multi-factory, multi-currency, multi-profit center and multi-program management and is sufficient to meet the demand of enterprises in the international competition.
To cope with the policy that the domestic listed companies should adopt IFRS (International Financial Reporting Standards) accounting system, Ares has launched its IFRS solution. Being the first government-acknowledged ERP supplier, Ares has accumulated many successful IFRS cases. Elastic solutions, including the complete system replacement and the combination of different general ledger systems or reporting tools, are also provided to save human costs, lift operating speed, reduce errors and adjustment range of the statements in the future. The implementation of IFRS corresponding solution could help enterprises not only decrease the affection of the operation side, but enhance more competitiveness for them to seize opportunities. Ares recently won eleven certificates for IFRS from Taiwan's Ministry of Commerce of Taiwan government.
More introduction about ArgoERP:https://argoerp.ares.com.tw/en/
About Ares
First Taiwan-based software company to be listed on the Taiwan Stock Exchange (TSE) and has been dedicated to IT services for thirty five years
Professional information management system provider of greater China, specializing in research and development technology and system integration, and provides informatization services from single products to total solutions for main service clients throughout financial, government, industrial and commercial enterprises
Certified regional partner of SWIFT (Society for Worldwide Interbank Financial Telecommunication) in Taiwan
First government-acknowledged IFRS (International Financial Reporting Standards) ERP solution provider, first Oracle partner in Taiwan and Microsoft Gold Certified Partner
Largest provider of Manufacturing Execution System in Taiwan LED industry
Top player of the Taiwan foreign exchange and core banking solution provider, which even has been mentioned in Gartner reports
Ares introduction: http://bit.ly/1BNIMVD
LinkedIn: http://linkd.in/1Br5OCM