Ares holds new HR system training class
In view of a customer's demand, Ares International Corp. recently held a training class for its HCP (Human Capital Planner) for its user to better understand system performance and functions.
The event opened with the speech of president Frank Lin of Ares. Lin pointed that the course is planned for HCP users and can help customers solve operational problems, while providing solutions to enhance work efficiency.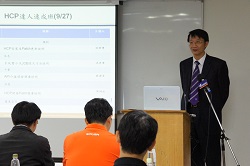 Following the opening speech, Ares HCP consultant Nicolas Chung introduced HCP installation procedure, while demonstrating precautions of system installation and setup to avoid unexpected errors. Meanwhile, Chung introduced patch update, system alerts, and job setting method, As such; operations can be more simple, convenient and intuitive, helping HR staff to work more effectively.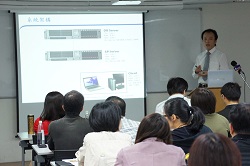 HCP consultant Jacky Su explained HCP Application Programming Interface (API), to help facilitate program customization, and effectively strengthen HCP system operation interface.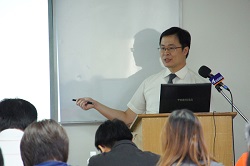 The final session was hosted by HCP consultant Jessie Chen. Jessie pointed out HCP development Forms, including programs and table naming convention, form builder, property inheritance, triggers range and multi-lingual settings.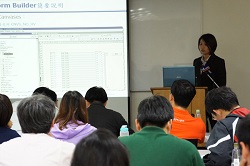 The audience was very enthusiastic during the Q&A session, having a heated discussion with consultant representatives. They also expressed a strong affirmation of the quality of features and services of HCP while looking forward to the next course e to explore on the program applications.
Introduction of Ares HCP
Ares HCP (Human Capital Planner) uses an active management, combines the concept of Balance Score Card and 58 human resource-related KPIs (Key Performance Indicators) in the BIS (Business Intelligence System), so enterprise leaders can immediately get the most updated human resources condition and management indicator. The standard version of the system uses parameters; therefore, it is suitable for all kinds of enterprises and can be implemented in a short period of time. Furthermore, Ares R&D department keeps adding the newest related functions such as employee function, organization performance, employee relationship management and high-level execution supporting system to improve the overall competitiveness of our clients and help creating more long-term values for the enterprise. HCP now features implementation templates of various industries such as manufacturing, retail, service, high-tech, publishing, teleservice, etc.
Introduction to Ares
Ares has provided professional services for over 30 years and is the first Taiwan-based software company to be listed on the Taiwan Stock Exchange (TSE). Ares is a professional manufacturing management information system provider, with the largest share in the MES industry of Taiwan, the first government-acknowledged IFRS ERP solution provider. Ares is also the top player of the Taiwan foreign exchange and core banking solution company and SWIFT partner, while being the first Oracle partner in Taiwan.