Ares holds intelligent manufacturing seminar
Since the German government advanced the term "industrie 4.0" in 2011, leading industrial countries such as the US, Japan and Korea also held high the banner of "smart factory", looking forward to take the preemptive opportunities in the new round of industrial revolution. Executive yuan of Taiwan recently came up with the industry development thought "productivity 4.0" via information and communication technologies that our country is skilled in, expecting to recreate the industry orientation and value of our country. Hence, leading provider of Taiwan IT industry, Ares international Corp., recently held a "transform the thought, forge intelligent enterprise easily" seminar and proclaimed of providing several enterprise health diagnosis quota for free which earned warm responses.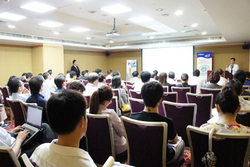 Taiwan enterprises are facing pressure of industrial upgrading and transformation; hence, Ares invited JW consulting and M-power Information to join the event and share the importance of organizational governance concept transformation, intelligent management of supply chain and manufacturing processes to enterprise transformation to help the enterprise achieve the elastic, small mount, diversified production goal. Frank Lin, president of Ares, pointed out that informatization, automation and evolution of management concept is the best solution of creating sustainable competitiveness while facing the threat of red supply chain recent years. Hence, when confronting industrie 4.0, domestic enterprise shall not be limited to only thinking about how to build smart factory that all the facilities network together, but upgrade production management process synchronously which deserves to be called "intelligent manufacturing". However, electronize the production management process is not only the issue of manufacturing intelligentize but also the key point of industrial upgrading for industries such as circulation, food, retail…etc.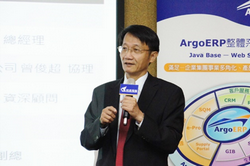 Mentioning the secret of business sustainable operation and heritage, Jun Chao Tseng, assistant vice president of JW consulting, who has nearly twenty-year experience in operation performance counseling, indicated that only by changing the habitual thinking will the organization step over the wide gap of growing. ERP is the core for enterprise production and sales integration which enables to make "correct judgement" by "correct person" via "correct information" in "correct format" in "correct time".
How ERP system which plays a crucial role in enterprise informatization be effective to build intelligent enterprise? Qin Hua Zheng, senior consultant of Ares, stated that Taiwan enterprise emphasizes speed and on real-time adjustment to match with the altered orders or the change of raw materials. Moving toward intelligent manufacturing which is more flexible is an inevitable trend and information system is the hub of enterprise intelligentization. For instance, no matter how complicate the production process is, using ERP system to integrate with supply chain management allows adjustment at any time according to the raw material or the market demand. On the other hand, putting information system merely on mobile devices to respond to the climbing of mobile commerce is inappropriate. To seize market opportunities, enterprises shall make good use of mobile devices, doing business in the mobilized world and give full play to creative economy will help enterprises become more intelligent.
Qing Tzu Luo, vice president of M-power, stressed that to become a real intelligent enterprise, in addition to changing the operation concept conforming to the trend and implement informatization system, enterprises shall also make good use of big data gathered from all business operations and further achieve early warning, forecasting market trends and respond as soon as possible. Luo advised enterprises shall manage and analyze the data gathered from the supply chain, customer, support unit…etc. to master aging of account and age of inventories and enable operation management unit reaching operating decision rapidly while facing fierce competition which is the ultimate goal of building intelligent enterprise.
To help domestic enterprises confronting the industrie 4.0 era, Ares provides the enterprise eager to achieve informatization and automation with enterprise health diagnosis. From checking the state of current plant and production line and provide the advice of upgrading and transformation simultaneously for free and limited quota, interested customers are welcome to call 886-2-2522-1351 #301 to get further information.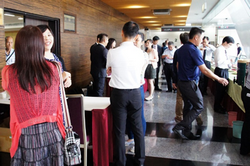 About Ares
Ares is the first Taiwan-based software company to be listed on the Taiwan Stock Exchange (TSE) and has been dedicated to IT services for thirty five years, having outstanding contributions to government, financial industry and business enterprises, insisting service quality and is the Industrial Development Bureau Ministry of Economic Affairs IT-3 class professional services organization.
ArgoERP developed by Ares can adjust flexibly for all kinds of industrial characteristics to improve enterprise business process in the most economic cost and improve the overall efficiency of resource using.
More details about ArgoERP: https://argoerp.ares.com.tw/en/