Taiwan Software company Ares holds user conference to celebrate 35th anniversary of founding
Taiwan stock market-listed software company Ares International Corp. recently held a user conference at Mandarin Oriental, Taipei to appreciate their customers for 35 years trust and recognition and shared future trend and achievement of Ares.
The event started with the speech of Harry Yu, the chairman of Ares, introducing the core value— "Ares CARE", which stands for care, appreciate, responsibility and evolution, and future prospects of Ares. Chairman Yu indicated that the significance of founding a company for 35 years is not earning money but thinking of making perfection more perfect, providing better products and services, keeping promises to customers, and improve customer satisfaction.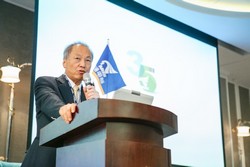 Frank Lin, president of Ares, shared the new strategy and product release of Ares. Taiwan government has gradually lifted regulation restraints regarding the financial business of Taiwan; Ares has launched responding modules and systems promptly. Ares core banking system eAresBank is the only Taiwan information service provider compared with international companies in a market report of Gartner, a well-known international market research institution. Besides, ciMes (Computer Integrated Manufacturing Execution System), the MES system developed by Ares, also developed industrie 4.0 solution as well. "ciMes" combines big data, IoT (Internet of Things), SCADA (Supervisory Control and Data Acquisition) technologies to build smart factory and put intelligent manufacturing into practice. In addition, enterprise information application and government large-scale IT project are also the specialized fields of Ares. Ares hammers at using information technology and tool to improve enterprise production and management performance and assists customers take the lead in the industry.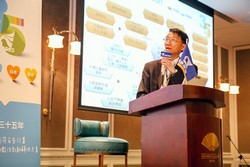 Colley Huang, president of Digitimes, a well-known IT newspaper in Taiwan, was invited to address "the rise of China and the counter plan of Taiwan". President Huang showed the market situation and trend through different perspectives such as ICT (Information and Communication Technology) industry, IoT economics, red supply chain and emerging countries; and explained that Taiwan still has a great room for growth. With humor and over thirty years industry strategy and analysis experiences, president Huang pointed out that we shall be more sensitive to the surrounding, think outside the box and not to be a dominator being dominated to create demands and new value of Taiwan.
After the fascinating speech of president Huang, Ares invited all the user attended to enjoy the elaborate meals at noon. Representatives of different fields exchanged their own experience and created cooperation opportunities during the meal.
In the Afternoon, the founder of well-known crowd founding platform, Light Lin, gave speech on "from idea to business: the application and extension of crowd founding" to all the attendees. Founder Lin indicated that the innovated ideas could seek for supporters through disintermediation, raise funds, put the plan into practice and feedback to their supporters. The future prospect of founder Lin is to build a new ecosystem connecting the idea and business, which starts with ideation, project, prototype, proof of concept and find the business model to be real business. Founder Lin is also the pushing hands of crowd funding, urging FSC (Financial Supervisory Commission) to establish "Gofunding Zone" and GISA (Go Incubation Board for Startup and Acceleration Firms). FSC also opens the operation of equity crowd founding to some securities dealers accord with certain qualifications to expand the financing channels for micro-innovative enterprises.
Po-Li, Wei, director and attending doctor of General Surgeon of Taipei Medical University Hospital, shared "Health is wealth— Colorectal cancer prevention and health management". The number of people with colorectal cancer ranks first place among the people receiving diagnosis of cancer in Taiwan. Doctor Wei indicated that diet, exercise, cultivating good habits and health concepts and screening could lower the occurrence of colorectal cancer. Doctor Wei shared the matters should be noted and the key point of management of the disease would be affected by obesity, hypertension and diabetes; and also shared his own experience of balancing the ideal concept and difficulties in real life to lose weight. Attendees realizes how to manage their own health through correct concept and prevention awareness to create high peaks in their careers.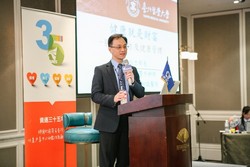 During the event, Ares prepared a fun activity for attendees to share their photos on Facebook and interact on fan page of Ares. All the attendees participated in the activity and shared the lively photos with their friends. For activity highlights and more information about newest technology, enterprise issues, "like" us on Ares International Corp. Facebook fan page (http://on.fb.me/1P6HCQ0)! Ares user conference for 35th anniversary ended smoothly and successfully in the support of all the customers.
About Ares
Ares is the first Taiwan-based software company to be listed on the Taiwan Stock Exchange (TSE) and has been dedicated to IT services for thirty five years.
Ares is a professional manufacturing management information system provider of greater China, providing software products and professional services for financial organizations, governmental institutions and enterprises, including outsourcing services.
Ares is the first government-acknowledged IFRS (International Financial Reporting Standards) ERP solution provider and first Oracle partner in Taiwan. With the largest market share in the MES (Manufacturing Execution System) of Taiwan LED industry, Ares is also the top player of the Taiwan foreign exchange and core banking solution company and Society for Worldwide Interbank Financial Telecommunication (SWIFT) partner.
Ares introduction: http://bit.ly/1BNIMVD
LinkedIn: http://linkd.in/1Br5OCM